Apptivo is cloud-based software consisting of a series of apps designed to help businesses thrive, including a customer relationship management (CRM) platform.
This is a solid choice for small- to medium-sized organizations wanting to expand because to its user-friendly design and scalable capabilities. It also has enough complex features to entice bigger corporations. In this Apptivo review, I will assess how this CRM stacks up against some of the top CRM solutions available.
Apptivo CRM Key Features
Some of the main Apptivo features are:
1. Contact Management  
CRM is also known by the name "contact management." With the help of Apptivo, you can maintain your contacts and add new ones by capturing leads from emails or website forms.
A customer-facing app may be customized in a number of ways to arrange your contact list based on your chosen information. Additionally, you receive contact conversion when they are prepared to become leads or customers who pay and redundancy rules to clean up your data.
2. Campaign Management  
Apptivo is fantastic for advertising efforts and makes it simple for you to quickly generate stunning advertisements. Campaigns may be built using templates and themes that provide great visuals. Additionally, target lists assist you in determining the ideal demographic for marketing.
3. Email Marketing   
Campaign management includes email marketing. Once your campaigns have been created using Apptivo email templates.
You may set up the auto-scheduling feature to send them out at the appropriate time. Campaign trackers are also available to view statistics on click-through rates, email open rates, bounces, along with various other metrics.
This is a fantastic tool to utilize in conjunction with the bulk emailing capability to ensure that you don't go over your allotted limitations is the email quota tracker.
4. Project Management  
Individual task management kicks off a project, which may then be aggregated and categorized by the project or task assignee. You receive task-specific timesheet tracking, which also helps with invoice conversions.
While most projects are shown as Gantt charts, certain project templates additionally include rapid automation actions that may be customized. The tools for project billing and reporting are the last two.
5. Lead management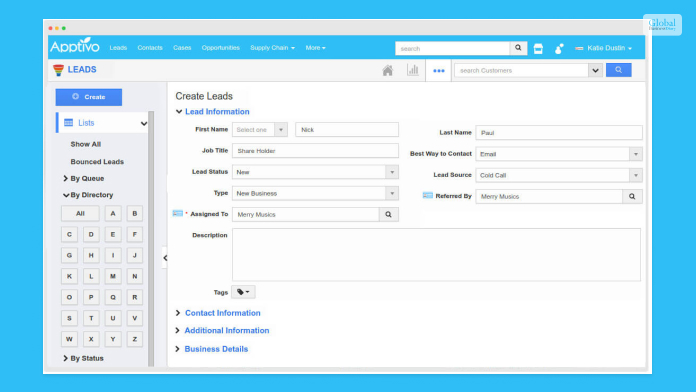 Before they are opportunities, leads are contacts. This indicates that these leads have not yet fully started the sales process. A smart workflow planner will ensure that you communicate with leads at the appropriate times.
Lead scoring by Apptivo provides information on the likelihood that a lead will become a transaction and enter the sales funnel. You may even create as many personalized fields as you like to keep organized.
6. Opportunities & Deals  
To effectively remain on top of every single deal in the process, Apptivo enables you to integrate deal management with opportunity management. Directly from emails, you may gather information and develop new prospects.
Sales force automation that follows leads along the sales funnel and automatically initiates actions like follow-ups helps simplify opportunities. Opportunities are frequently displayed in Kanban dashboard views, and along with that, pipeline reports are provided.
7. Invoicing  
Several applications on Apptivo are classified as invoicing apps. These comprise ledgers, credit notes, estimation calculators, expenditure reports, tools for managing licenses and insurance, sales receipts, property management, and more. One of Apptivo's key selling factors is this feature set.
8. Supply Chains & Shipment Management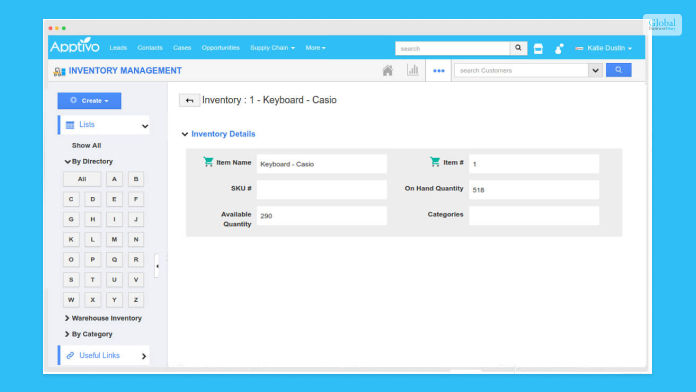 Apptivo's distribution management offers reliable supply chain solutions. Direct customer-distributor connections are possible. The processes connected to sales orders may start with these. Additionally, payment functions work with POS systems and cargo transaction management.
9. Competitor Management  
A tool to help you manage and keep up with all your rivals sets Apptivo apart from other CRMs. Maintain track of lost sales, which competitors won, and why. You may create extensive lists with unique data.
10. Products, Goods & Services  
There are approval processes for talking about fresh concepts for new items. You may monitor the progress of ideas as they materialize. Users may utilize Apptivo to pawn new patents for innovative ideas. Even the geographical range for patents is provided.
11. Knowledge Databases 
Users may create knowledge, how-to, and other FAQ-related databases with the Apptivo Answers app. Natural language may be used to enter queries and answers; tags and categories can be used to keep things organized; and SEO phrases can be incorporated into the database of knowledge. Every time a new question is submitted, immediate alerts may be set up.
12. API Integrations  
A vast collection of Apptivo login integrations are available for browsing. These may be broken into subcategories and sorted for API/Webhook usage, or they can stay in broad categories such as billing or productivity. According to investigated sources, the most well-known and significant connections are G Suite and Office 365, which both include Outlook.
13. Mobile apps  
The Google Play and Apple App Store provide specialized mobile Apptivo applications for iPhones and iPads. You may manage contacts, financial matters, assignments, initiatives, and even customer service via mobile applications, all from a straightforward yet intuitive user interface. Work orders, projections, timesheets, and expenditure reports are all included. The mobile applications sync data automatically and in real time.
Apptivo CRM Pricing
Regarding Apptivo pricing plans, this CRM currently has three different subscription plans to choose from. They are as follows:
1. Apptivo Free  
This is the free, basic plan of Apptivo. The only use this plan will provide you with is its access to lead and contact management features.
2. Apptivo Lite  
Price: $10 (per month) / $96 (annual)
Along with the Apptivo basic plan, this plan provides you with two other features:
Opportunity Management
Custom Dashboards
3. Apptivo Premium  
Price: $15 (per month) / $144 (annual)
Along with all the features of Apptivo Lite, this plan gives you access to the Mass emailing feature.
Apptivo CRM Customer Service
Apptivo provides live chat, email, and 24/7 customer service on all paid plans in addition to a comprehensive knowledge library. On weekdays, it furthermore provides live phone help.
I used the live chat feature of Apptivo and posed a few straightforward inquiries on the user interface to gauge the customer service team's responsiveness. I received prompt responses from a helpful and competent support representative, who provided clear responses and pointed us toward additional assets on the information hub.
Apptivo CRM Alternatives
Value-wise, Apptivo's premium plans are difficult to match. Insightly, a rival has excellent project management capabilities and a wide variety of third-party connectors, but it is expensive and has fewer CRM functions on the base subscription.
Having said that, Apptivo is renowned for its great reporting and offers better opportunity and pipeline management. This makes it ideal for bigger pipelines, where insights from sophisticated analytics might be useful.
Zoho CRM is another strong rival that may compete with Apptivo in terms of customization. However, it costs more than Apptivo and has fewer project management options than both Insightly and Apptivo.
The beginning plan of Zoho distinguishes it from Apptivo. While Zoho includes deal management, reporting, workflow management, and more, Apptivo's free solution is restricted to lead and contact management.
Final Verdict: Should Your Business Use Apptivo CRM?
Ultimately, Apptivo is a formidable competitor in the SMB and enterprise CRM markets. Bulk emailing, workflow automation, numerous sales funnels, and customized dashboards are just a few of the powerful features it offers for a wide range of affordable prices when compared to its rivals.
While starting out may be difficult owing to the variety of customization choices, it also delivers an excellent user experience through an easy and flexible interface.
The platform is scalable and configurable for larger enterprises thanks to Apptivo's distinctive app structure, which lets you create a CRM that precisely meets your company's requirements. An Apptivo app may be used to provide project management tools, billing facilities, and marketing capabilities.
Despite the fact that it would be wonderful to see Apptivo provide additional third-party connectors, it appears that the firm is quite proactive about upgrades, so they are probably in the works.
Finally, when contrasted with many of its rivals, Apptivo provides some of the greatest customer care we've come across, including a live chat feature that lets you communicate with a support agent around-the-clock.
For each of these factors, I suggest Apptivo as a flexible all-in-one CRM system that will expand your company and encourage teamwork to close transactions more successfully.
Read Also: