Pregnancy is a beautiful time. However, for many women, it is associated with discomfort. The body changes, and that's normal because these changes are necessary for a new life to be born.
Many women want to capture themselves at this time, but the changes make them feel uncomfortable. Today we will give some tips for capturing beautiful maternity photos to make your maternity photo shoot perfect.
If you want to post photos to social media, you may need apps to frame photos. You can read about them on Skylum's blog.
Looking For A Photographer
Finding a great maternity photographer is quite difficult. Despite all the professionalism, you may not feel comfortable communicating with this person, and then the photo session will be ruined.
Here are a few beautiful maternity photos tips to help you with your choice:
Start with your wishes. For example, if you want to make a photo shoot outdoors, look at examples of such works. Many photographers are only capable of doing a formal style shoot. This is normal because these are the kinds of pictures that are very popular. Finding those who can do something original is harder, but feel free to ask questions. It is possible that the photographer does not have all the pictures in his portfolio. If you ask him, he can show you others, and maybe you will find what you are looking for.
Make a list of what you want in writing. Don't you have your own props? Write about it! Do you want other people to attend the photo shoot? Feel free to write that down, too. When the photographer sends you a response, you'll know which items are acceptable and which will have to be dropped.
Talk to the photographer in person. You may not feel comfortable, and then you should choose another one. At the meeting, you can clarify all the points of interest, such as whether he can edit photos and what free picture frame apps use.
How To Prepare For A Photoshoot?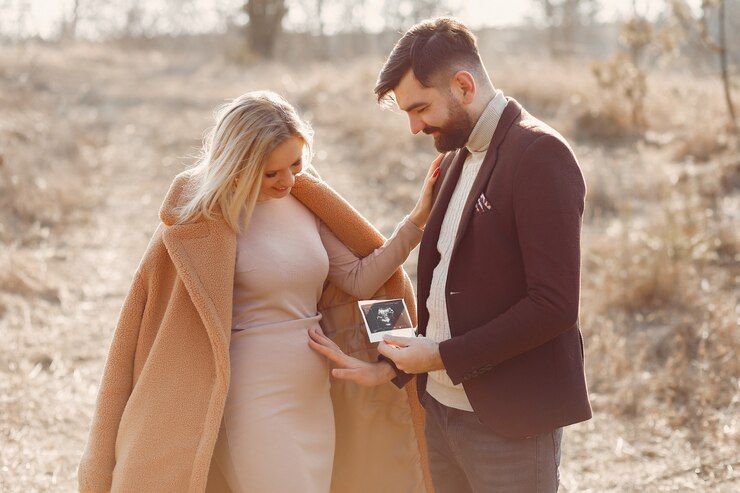 Let's start by choosing a date for beautiful maternity photos. You can have your photoshoot at any time that is convenient for you. Most pregnant women choose a period between 30 and 33 weeks.
As for clothing, it also depends on your wishes. Many pregnant women choose light-flowing dresses, as they look great in them. But your outfit for the photo shoot can be anything, as long as you are happy! Do you want an original costume? Not a problem if you feel good about it.
Pregnancy Photoshoot Poses Tips
The following are some of the best ideas for beautiful maternity photos.
1. The Big Reveal
So, you're pregnant, and you want to break the news to the world. So, your family is about to have a baby, and you want to tell the whole world the news. You can take this shot by holding a two-strip pregnancy test, taking a close-up of your belly, or adding props like a child's toy.
Don't forget to add a cute frame using the beautiful maternity photos frames app for Android or iOS.
2. Family Photoshoot
There are many beautiful maternity photos shoot ideas involving the whole family. This type of shoot can be formal or candid, fun or serious. It can involve members of the human family as well as the four-legged family. The only limitation is your imagination.
Here are some ideas:
A photo with your happy husband or other children kissing your belly;
Identical T-shirts with funny or serious captions;
All family members are at the table and have one free chair for the baby-to-be.
3. Water
The bathtub is a natural setting and arrangements accessories for beautiful maternity photos. Use the milk bath solution and make the water opaque while considering using pearl bath soaps, dyes, or even flowers for a dramatic touch!
However, ideas don't end with the traditional bathtub! The beach is another place where you can take great pregnancy photos, whether mom is standing in the water, lying on the sand, or lying in the surf.
You can be photographed in your underwear or nude. The photographer you are working with will help you feel comfortable and tell you the best pose to take.
4. Focus On The Belly
During pregnancy, your belly is gorgeous. Why not accentuate it? You can choose an outfit that will accentuate it as much as possible, or you can wrap a gift ribbon around it. Often professional photographers offer to take two beautiful maternity photos for your album. One of them will have your family cuddling your beautiful belly, and the other will show your baby in their arms.
5. Home Comfort
Home is the place where you feel most comfortable, and it is the place to use as a location for beautiful maternity photos. Be natural and relaxed; take your picture by the fireplace, looking out the window, or in a rocking chair. Another option is to decorate your baby's future room. The whole family can take part here.
Final Thoughts
Remember that beautiful maternity photos are a great addition to your family album, so take the time to think things through. When you do a maternity photo shoot, you may want to post pictures on social media. To make them unique, use photo editors! Check out Skylum's blog for everything about apps to frame photos, as well as other apps!
Read Also: