When we talk about the luxury industry, he is what we call a "Mogul." He owns more luxury brands in the world than anyone else. This is what secured his place as the Second Richest Man In The World, with a net worth of $139.1 billion.
Who Is Bernard Arnault?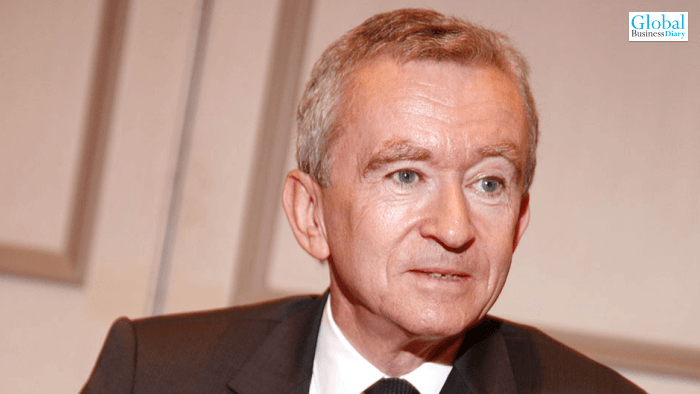 Born to a business family in France, Bernard Arnault showed business acumen from a young age. In 1989, became the CEO of LVMH Moet Hennessy Louis Vuitton. He is also the main shareholder of Louis Vuitton.
Bernard Arnault became The Richest Man in France and The Second Richest Man in the World. Bernard Arnault net worth is $139.1 billion. His business empire stretches over more than 70 big brands. A few of them are Louis Vuitton, Sephora, Christian Dior, and Le Bon Marche.
Personal Information
| | |
| --- | --- |
| Born | Bernard Jean Etienne Arnault5th March 1948, Age – 73Roubaix, France |
| Alma Mater | Ecole Polytechnique, Palaiseau |
| Bernard Arnault & Family Net Worth | $139.1 billion |
| Occupation | Businessman, media proprietor, art collector |
| Famous For | Founder of LVMH |
| Title | CEO & Chairman of LVMH, Christian Dior SE |
| Parents | Jean Arnault (Father), Marie-Josephe Savinel (Mother) |
| Spouses | Anne Dewavrin (m.1973- div. 1990), Helene Mercier (m.1991) |
| Children | Delphine Arnault, Antoine Arnault, Alexandre Arnault, Frederic Arnault, and Jean Arnault |
| Height | 6'1" or 185cm |
| Bernard Arnault House | Bordeaux, French Alps, Paris, Beverly Hills, Bahamas |
| Nickname | The Terminator |
Early Life
Bernard Arnault was born to French manufacturer Jean Leon Arnault and mother Marie-Josephe Savinel in 1949. He completed his education at Ecole Polytechnique, France's best Engineering school.
He then began working for his father's company. Later he convinced his father to shift his business from civil engineering toward real estate, which was booming at that time.
He remanded his father's company from Ferret-Savinel to Ferinel. He sold the industrial construction division of the company. After he acquired a textile company, they again renamed the real estate division George V Group.
Career
1. Professional Initiation (1971-1987)
Bernard Arnault started his career at his father's company Ferret- Savinel. There he was the president from 1978 till 1984. In 1984, the French Government was looking for someone to take over Bouccas Saint-Freres.
With Antione Bernheim's help, who was the senior partner at Lazard Freres, Bernard Arnault was able to acquire Financiere Agache, the luxury goods business. He then became the CEO there and also won the bid to take over Boussac Saint-Freres.
Along with Boussac Saint- Freres and Christian Dior's assets which included department store Le Bon Marche and diaper manufacturer Peaudouce.
Arnault fired about 9000 employees from Boussac two years after buying and got the nickname "The Terminator." He then sold all the company assets except for Christian Dior and Le Bon Marche's department store.
By the mid of 1987, the company was again profitable and earned about $112 million in revenue on a $1,9 billion dollar stream.
2. Acquisition Of LVMH (1987-1989)
Toward the end of 1987, Arnault thought of creating a chain of luxury brands. He started working with the CEO of Moet Hennessy, Alain Chevalier, and Louis Vuitton President Henry Racamier. Together they formed the LVMH in 1987.
In July of 1988, Arnault gave about $1.5billion dollars to the company Guinness which had about 24% shares in LVMH. Bernard Arnault then spent about $600 million to acquire 13.5% of LVMH, making him the biggest shareholder.
In 1989, he spent about $500 million again to buy 43.5% of LVMH shares. Having a different viewpoint than Henry Racamier, LV president, he turned on Racamier and stripped him of his powers.
In 1989, on 13th January, Bernard Arnault was unanimously elected the Chairman of the executive management board.
3. LVMH Growth And Expansion (1989 – 2001)
After becoming Chairman, Arnault led the company to become the biggest luxury brand group in the world as it is now. In 1988, he started acquiring different luxury brands like Celine, Christian Lacroix, Berluti, and Kenzo.
In 1996, he bought Loewe, Marc Jacobs, and Sephora. In the following year, another five brands joined the group Thomas Pink, Emilio Pucci, Fendi, DKNY, and La Samaritaine.
4. Increase In Success And Profit (2001 – Present)
Few years back in 2011; Bernard Arnault said that he bought 50.4% of Bulgari. In 2017, he acquired Dior haute couture and ready-to-wear and footwear. In 2018, Arnault drove the company to have a record-breaking sale of 42.6 billion Euros in 2017.
In November 2019, Bernard Arnault announced his intention to buy Tiffany &Co. The deal was supposed to be closed by June 2020. But due to a breach in the contract, Arnault called off the deal. Arnault announced it was due to the way Tiffany was conducting business during COVID-19.
But after a brief legal proceeding, Arnault and Tiffany came to an understanding and agreed to the original contract. But this time, the price is slightly reduced to $16 billion instead of $16.2 billion.
5. Other Investments
In 1998, along with businessman Albert Frere, Bernard Arnault bought the Chateau Cheval Blanc. Later in 2009, LVMH bought its shares to add to its Chateau d'Yquem, wine property. In 1999, Arnault was among the initial investors of Netflix.
6. Art Collection
Bernard Arnault is renowned for being one of the biggest collectors of art. His massive collection includes great works by Picasso, Henry Moore, Andy Warhol, and Yves Klein.
He is also the reason why LVMH is a huge patron of the France art collection. He also owned the Phillip de Pury & Company from 1999 to 2003.
In 2006, he also opened the LV Foundation is dedicated to creating contemporary art. The building was designed by the famous Architect Frank Gehry.
Some Popular Achievements Of Bernard Arnault
There are some of the popular achievements of Bernard Arnault that most of us are unaware of. You must know about it to have a clear insights about the achievements of his life. You need to take care of the realities while attaining your goals with ease.
1. Building LVMH  
Bernard Arnault is best known for his role in building and leading LVMH (Moët Hennessy Louis Vuitton), one of the world's largest luxury conglomerates. LVMH comprises numerous prestigious brands, including Louis Vuitton, Dior, Fendi, Givenchy, Moët & Chandon, Hennessy, and many more. Under his leadership, LVMH has become a global powerhouse in the luxury goods industry.
2. World's Wealthiest   
Bernard Arnault has consistently been one of the wealthiest individuals globally, according to Forbes' Billionaires List. He has held the title of the world's richest person on multiple occasions. His business ideas have made him one of the wealthiest person in the world right now. A man becomes big due to his hard work and innovative ideas and Arnault is doing best at it.
3. Acquisition & Expansion   
Arnault is known for acquiring iconic luxury brands to add to LVMH's portfolio. His strategic acquisitions have included brands like Christian Dior, Bulgari, and Tiffany & Co. These moves have solidified LVMH's position as a dominant force in the luxury market.You need to get through the complete process that can make things easier for you in attaining your needs with complete. You should not make things too complex from your end while you want to make things work for you in all possible manners.
4. Philanthropy 
Arnault has been involved in philanthropic efforts. He and his family pledged significant donations to various causes, including disaster relief, educational initiatives, and cultural preservation. You should ensure that the chances of the errors must be as less as possible while you want to get things done in perfect order within a specific period of time.
5. Art Patronage   
Bernard Arnault has been a patron of art and culture. He played a significant role in the development and funding of the Louis Vuitton Foundation, a cultural and art center in Paris designed by architect Frank Gehry. His significant work in the art center has created lots of people to take interest in art and culture today in the world.
6. Sustainable Practices   
Under Arnault's leadership, LVMH has made commitments to sustainability and environmental responsibility. The company has taken steps to reduce its environmental footprint and promote ethical practices in the luxury industry.
Frequently Asked Questions (FAQs):
1. How Did Bernard Arnault Become So Rich?
Bernard Arnault gained his wealth through great investments in multiple luxury brands over the years. He owns major shares of many renowned brands.
2. Who Is The Ceo Of Louis Vuitton?
The CEO of Louis Vuitton is Bernard Arnault. He is a French businessman and the second richest man in the world.
3. Is Louis Vuitton Still Family-Owned?
Yes, LVMH is still a family-owned luxury brand. It is owned by the Arnault family, with an ownership share of 47.44%. And a voting power of about 63.5%.
Wrapping Up!
Undoubtedly Bernard Arnault has achieved a remarkable level of achievement. The dramatic level of rising in his net worth is something worth mentioning. It is expected that his net worth is only going to rise from here onwards.
Read More: